The key to any good subwoofer sound system is having a great amplifier to go with it. Amps are an essential component of a sound system.
But finding the right type of amplifier for your sound system can be tricky. Not only do you have to pick out an amp that suits your needs, but you also need to consider how it works and whether it is compatible with the subwoofer you have.
If you're having trouble finding the right amp for you, then don't worry. I've done the legwork and gathered some of the best amplifiers out there that you can use with your subwoofer sound system.
This list will take you through 5 of the best amplifiers to use with your subwoofer. Not only that, but I've also included a buyer's guide to help you pick out the right amplifier for you, as well as an FAQ section to answer any questions you may have.
So without further ado, let's dive right in!x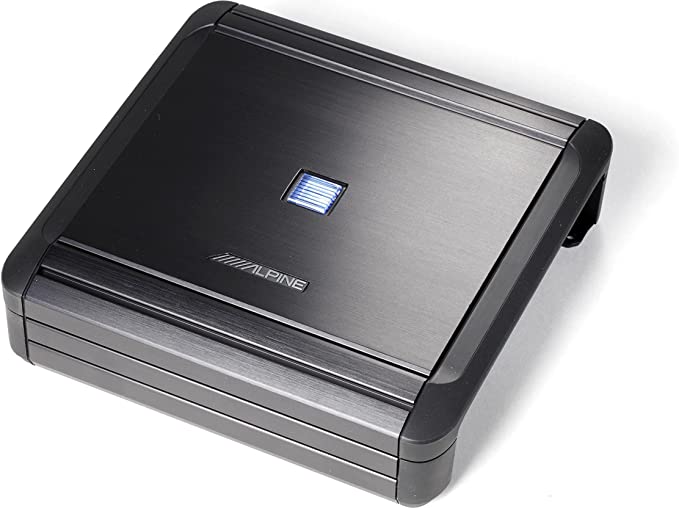 Alpine is one of the biggest names in car sound systems, and this high-quality monobloc amplifier proves why the brand is so well-respected.
The MRV-M500 is super-compact, with a sleek and stylish design. Don't let its size fool you, though – this amp is no slouch when it comes to power.
With a hefty 500W RMS at 2 Ohms and 300W RMS at 4 Ohms, the MRV-M500 is more than a match for much larger, bulkier amplifiers while being small enough to install in practically any vehicle.
It's also an incredibly versatile amp, with all the equalizers, filters, and protections you could ever ask for. All the amp's knobs and ports are concealed by the stylish cover. However, this can make it a bit trickier to access when your amp is installed.
Top it all off with a sound quality to rival an amp 3x the price, and you're dealing with one of the best amplifiers for your car's subs. If you want a good amp, let the Alpine play.
Pros
With a small and sleek design, you can install the MRV-M500 in pretty much any vehicle.
It's extremely versatile, has plenty of customization options and is compatible with most head units.
Its low price and high sound quality makes it much better value than more expensive amps.
Cons
Its snap-on cover makes it tricky to adjust the setting and wire it up during installation.
The bass can actually come through too loud, and turning it up to the max can rattle your car windows.
Also Available At:
Sonic Electronix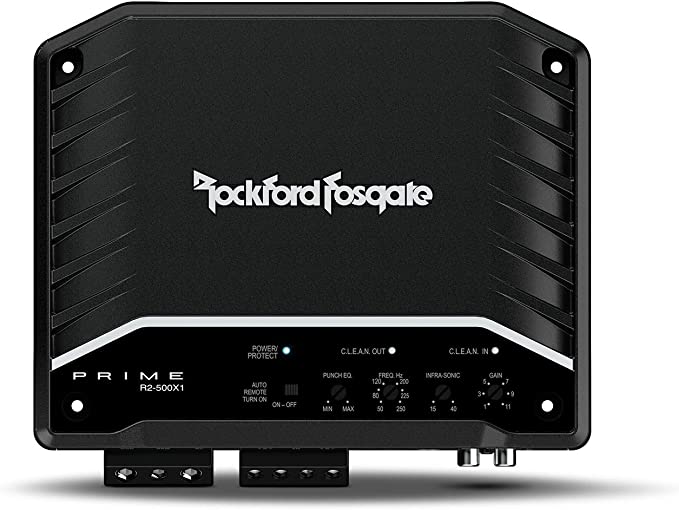 Another big-name brand that deserves all the recognition it gets (and more!), Rockford Fosgate are well-known for their incredible amps. The R500X1D is no different, and showcases some of the brand's best tech.
This class D amp is packed full of features for an unparalleled listening experience, from its easy-to-adjust sound settings to the punch and bass control that makes adjusting the amp's audio as easy as pushing a button.
What's more, all the amp's settings are easily accessible on the top of the guitar-amp-style design, making it simple to install and adjust at your leisure.
Pros
With more sound control options than you can shake a stick at, this amp lets you craft the perfect audio.
It is easy to use and can be adjusted on the fly.
The overcurrent and thermal sensing technology protects the amp from shorting or overheating.
Cons
The R500X1D doesn't have as much power as other amps.
The price is quite high considering its mid-range power.
Also Available At:
Crutchfield
If you're looking for a sound system on a budget, then this is the amp for you. The Boss Riot 1100M delivers high-quality sound without breaking the bank.
This single-channel amp is compact and easy to install, with mounting tabs that let you attach the amp anywhere in your vehicle with no fuss.
This ease-of-use isn't just limited to hooking up your amp, however – the variable input control, remote gain switch, and several other handy features makes using this amp simple.
There's even a bass-boost button for when you really want to step up the bass.
One thing you do need to look out for is that the voltage available isn't up to the standard advertised.
While the amp is still powerful and has a great sound quality, the 1100W power shown on the box doesn't really translate to its actual performance.
A more realistic estimate would be between 700-800W; this is still respectable, especially considering the amp's quality and great value, but you should bear this in mind when picking out the amp to match your subwoofer.
Pros
With a low price and great quality, the Riot is a great amp if you're on a budget.
It has two channels, one high and one low, which makes it suitable for different levels of impedance.
The handy input control has a boost button for extra bursts of bass among other great features.
Cons
May overheat if you use it for too long.
The advertised 1100W is generous, and 800W RMS is more realistic.
Also Available At:
bossaudio.com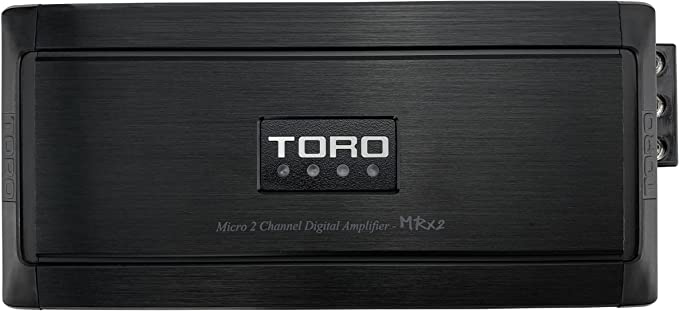 Do you want a great sound system, but you're pushed for space? Don't worry, because the Toro Tech MR2 packs all you need in an amp into one small package.
Measuring just 6 inches long and 3 inches wide, it's hard to believe that this tiny amp is capable of producing the rich bass that it does.
However, with two channels, high- and low-pass filters, and a lot of power for such a small amp, you're assured of a deep and strong bass.
The Toro Tech MR2 provides 230W RMS at 4 Ohms, 320W RMS at 2 Ohms, and 500W RMS at 1 Ohm, which gives it the same power as a respectably powerful, much larger amp.
And while smaller amps tend to miss out on some features of larger amps, the Toro Tech MR2 delivers all you need for a great listening experience.
Its small size does come with some drawbacks, though. Without a large surface area, the Toro Tech MR2 can overheat quite quickly if you use it for long periods of time.
It also has a lower voltage than other amps, but don't think this means it won't pack a punch.
Pros
High- and low-level inputs give the amp a much richer sound and bass.
It is extremely compact, and can be used anywhere from cars, to motorcycles, to home systems.
Despite its size, the Toro Tech RMS doesn't sacrifice features such as inputs or pass filters.
Cons
The adjustable dials and switches are all located on one small panel, making it difficult to tweak your sound settings.
Because of its size, the amp tends to run hot fairly quickly.
Also Available At:
Toroaudio.com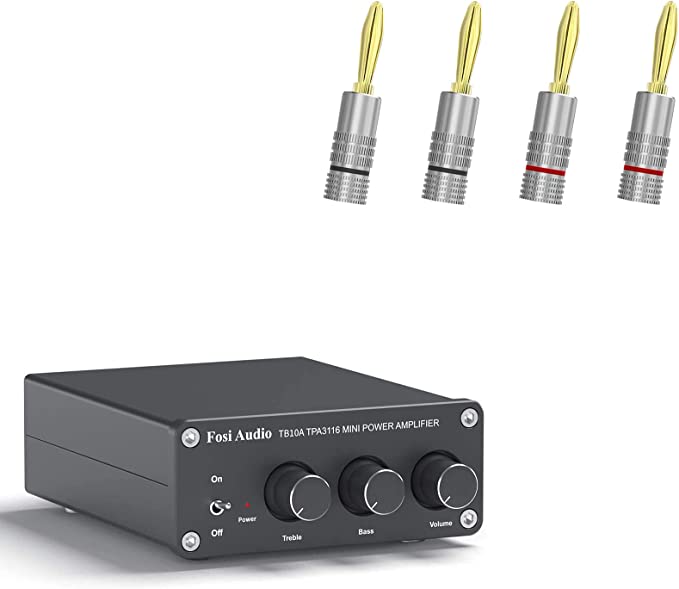 Here's an amp that will really give the subwoofers in your home sound system an edge.
Specifically designed for home systems, the Fosi Audio TB10A is a simple yet beautifully effective amp that will give your subwoofers the bass boost they deserve.
Despite its small and sleek design, this amp has a lot of power behind it.
It can drive 200W RMS at 8 Ohms, and 300W RMS at 4 Ohms. While this might not be as powerful as some larger home sub amps out there, you'll still be sure of a high-quality sound with some super-strong bass.
The one trade-off for its compact design is a lack of varied customization options. Unlike other amps with more features, the Fosi Audio TB10A only really lets you adjust the treble, bass, and volume.
That said, it's still a great choice for connecting any and all home sound system subwoofers.
Pros
Adjust the treble, bass, and volume with a simple turn of the knobs.
Its compact design and smooth sound makes it perfect for any and all home systems.
Although small, it still packs a powerful punch.
Cons
With only a few sound settings, there isn't much you can do in the way of customization.
Because it's designed for home sound systems, it isn't suitable for use in a car.
Also Available At:
fosiaudio.com
Buyer's Guide
When picking out your amplifier, there are several things that you need to consider.
Not every amp will suit your needs (or your subwoofer), so making the right choice is important.
Here are some things to think about when choosing the best amplifier for your subwoofer sound system.
Size
When it comes to picking the right amplifier, size matters. You need your amp to fit where you need it, and the sizes of amps can vary pretty dramatically.
If you're looking for an amp for your car stereo, it needs to fit in your car. While size isn't too much of an issue in larger vehicles, smaller cars will need to have a suitably-sized amp for you to get the most out of your sound system.
This doesn't just mean the amp needs to physically fit in your car (although this is important for obvious reasons). If your amp is the wrong size, it can affect the sound quality of your music and make it sound poor in the confined space of your vehicle.
Home sound systems don't need as much consideration, but you should still look for a size that's right for you. If your home is smaller, then you should get a smaller amp to match.
Meanwhile, if you have a larger house or you're putting your amp in a big open room, you can get away with a larger amp.
Power
You also need to consider the power of your amplifier, and make sure it matches that of your subwoofer.
Different subwoofers have different power, or RMS, ratings. You need to make sure that your amplifier will supply no more power than your subwoofer sound system, accounting for if you have multiple subs.
This is important as it will let your amp run properly without having a low speaker impedance.
One of the main differences between types of subwoofer amplifiers is their impedance. This is (in simple terms) the amount of electrical resistance in the amplifier's wires, which affects how the amp sounds.
The amount of impedance in your amp can differ based on what type of amp it is.
Not only does impedance affect your sound quality, but it also affects the amp itself. One of the reasons why it's important to match the voltage and impedance of your subwoofer and amplifier is that using amps with too low of an impedance will require much more power to do.
This causes the amp to heat up, risking permanent damage.
Purpose
Depending on where you'll be using your sound system and what you'll be using it for, you may need to choose a different type of amplifier to fit this purpose.
While most subwoofer sound systems are found in cars, they can also be used for home
sound systems and even in home theaters for a richer viewing experience.
Car sound systems typically have much lower voltages, so you would need an amplifier with a lower impedance. Home sound systems, on the other hand, have more voltage to work with and use amps with higher impedance.
If you're looking for a good car amp, the Rockford Fosgate R500X1D or the Alpine MRV-M500 are both great choices. Your home system, meanwhile, will benefit from the Fosi Audio TB10A.
Make sure that you're using the right amp for the job, so you can avoid breaking your sound system.
Amount Of Channels
While this isn't the be-all and end-all, the number of channels in an amp can really affect how your music sounds, especially in larger spaces.
Single-channel amps have one audio input and one output. This results in a clean and clear sound. Single-channel amps also use the full power going into them due to a much lower impedance.
Meanwhile, dual-channel amps such as the (Toro Tech MR2) create a more esoteric and layered sound which is ideal for getting the bass throughout both the front and rear of your car. They are also great for getting a surround sound effect out of your home system.
You can even find amps with more channels than this, like the Alpine MRV-M500 which has 4 channels. These can be bridged into a dual-channel system if necessary.
Frequently Asked Questions
What's The Difference Between An Amplifier And A Subwoofer?
So what makes subwoofers and amplifiers different? If you're not familiar with sound systems, you may not be familiar with either term.
Subwoofers are the cone-shaped parts of a loudspeaker that produces the bass sound. Subwoofers are typically used to increase the bass parts in music, making them louder, richer, and with a frequency that you can feel throughout your whole body.
Amplifiers, on the other hand, are a completely separate device to subwoofers. They are a piece of electrical equipment that takes the sound generated by a subwoofer and (you guessed it) amplifies it.
They also let you adjust different qualities of the sound, from what is filtered through to how much the bass is boosted.
Do All Subwoofers Need An Amplifier?
The short answer is yes, your subwoofers will need an amplifier. Because the amplifier essentially functions as the subwoofer's speaker and power, you won't be able to use your sub without an amp.
However, there are a few exceptions. Some subs have an amp built into them, although this is uncommon. Some types of cars will also have an amplifier already built into their sound system.
These subwoofers don't need you to connect an amplifier to enjoy some heavy bass.
How Do I Match A Subwoofer To My Amp?
The main thing to need to look out for when matching an amplifier to your subwoofer is the power. More specifically, you need to match the RMS Watts of the amp and the sub.
If the two components don't match, this could affect the impedance of the amp, leading to overheating and even irreparable damage to the amplifier.
Additionally, it can affect the overall sound quality of your music and leave it sounding distorted and poor-quality.
Final Thoughts
So there you have it: these are 5 of the best amplifiers to use with your subwoofers for a killer sound system. There isn't a single right pick for the best amp out there, and the right amp for you will mostly depend on your system, needs, and personal preference.
I hope you've enjoyed taking a look at these great amps, and that this list has helped you pick out the amplifier that suits you best. So whether you're looking for an amp to install in your car, or you want to improve your home sound system, all of these amps are a great choice.
All that is left for you to do now is get your new amp, set it up, and listen to some great music. Enjoy!