Whether you plan on building the perfect home cinema or simply want to enhance the overall sound performance in your living room, a high-quality center channel speaker is absolutely crucial.
This is especially important for me as I want to make sure the audio quality of the movies and trailers I am watching makes me feel like I am at the cinema.
Whilst, not all speakers are important, most audio enthusiasts would agree that the center channel speaker, as well as the left and right speaker, are essential if you want the best listening experience.
The center channel speaker is super important as most movie dialogs are produced by it. Most music and sound effects are also produced.
Therefore, for the best audio, you need a reliable center channel speaker.
However, finding the best can be difficult. You have to find a speaker that not only works effectively but also fits your decor and works well with the rest of your audio system.
This makes the hunt for the best speaker surprisingly overwhelming.
To help you out, we've compiled a list of the best center channel speakers on the market. We'll show you what each speaker offers and look at any pros and cons.
Without further ado, let's get started!

First on our list is the CS10 center channel speaker from Polk Audio. If you're looking for a central speaker that provides a strong audio output and clarity, this is easily one of your best options.
One of this speaker's best selling points is its high-quality neodymium magnets.
These magnets help to produce crisp, clear vocals and are capable of comfortably handling higher frequencies. This gives the user a much better audio experience.
The speaker also has a 1-inch polymer composite dynamic balance dome tweeter for much smoother highs and two 5 1/4 Bi-laminate dynamic balance drivers that are both lightweight and stiff.
This is beneficial when it comes to high efficiency, lower distortion, and brilliant bass.
What makes this center channel speaker even better is its five-way binding post connectors. This ensures a much easier and more secure setup.
When we reviewed this speaker, there were a number of things that impressed us.
Whilst the overall performance of the speaker was excellent, we actually loved the aesthetics of the speaker more. Aside from producing excellent audio, this speaker looks modern and sleek.
Pros
Affordable – As far as speakers go, this one is reasonably priced.
Powerful volume – Polk Audio's CS10 speaker will easily fill the room with sound.
Great sound – Sound from the speaker is clear and crisp.
Cons
Poor low-frequency performance – Some reviewers have noted the speaker sounding strained at lower frequencies.
Also Available At

Seeing as though Sony is arguably the best speaker brand in the industry, it's no surprise to see one of their speakers on our list.
Famous for their amazing sound systems, with unapparelled audio quality, it's also no surprise that their center channel speaker doesn't disappoint.
Packed with a range of useful features that help maximize audio performance, the best thing about this speaker is its dual 4 inches woofers.
These woofers are responsible for delivering the very best deep bass audio and low-ends.
That's not all though! The speaker also has reliable 1-inch tweeters that help the system produce frequencies and high-end tones.
This allows us to hear a much wider range of sounds. With a power output of 145 Watts, hearing those sounds clearly won't be a problem either.
Featuring a smart design, other neat features this center channel speaker comes with include a frequency response of 25Hz-25kHz, a two-way three-speaker bass reflex system, and six designs.
It was the six design styles that sold this product to us. This makes it so much easier to find the style of speaker that fits in with the rest of your audio system.
Pros
Solid audio – The sound quality from this speaker is awesome.
Versatile – The Sony SSCS8 speaker works well with most audio systems.
Realistic sound – The sound produced from this speaker will make you feel like you're in the film.
Cons
Large – The larger SSCS8 models are quite big.
Also Available At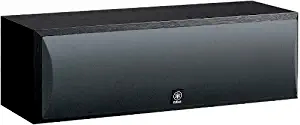 If you need a center channel speaker that doesn't take up much space but you don't want to sacrifice any audio quality, the NS-C210BL center channel speaker from Yamaha is where you should look first.
Another big name in the audio speaker industry, with this speaker, Yamaha has given those with little space the opportunity to still experience high-quality audio.
With a very slim and compact design, accompanied nicely by a 4-meter-long cable, this center channel speaker will fit almost anywhere.
Despite its size, the Yamaha center channel speaker has excellent audio quality.
Thanks to two 3.2-inch aluminum cone woofers, a .9-inch tweeter, a bass reflex port, and a wide frequency range, the audio is loud, clear, crisp, and very realistic.
As if that wasn't enough, the two mounting holes and 5-way binding posts make your life a lot easier when it comes to securing the speaker in place.
When we took a closer look at this stylish center channel speaker, we found it worked really well alongside NS-B210 bookshelf speakers, an NS-SW210 subwoofer, and NS-F210 floor stands.
For us, there isn't much else you could ask for from a compact center channel speaker.
Pros
Good frequency range – The frequency range on this speaker is 65Hz to 45kHz.
Compact – This speaker is perfect if you don't have much space.
Durable – The NS-C210BL comes in a strong wooden cabinet.
Cons
Unimpressive bass – The bass on this speaker isn't that great.
Also Available At

Those looking for a center channel speaker that offers premium quality without breaking the bank should strongly consider this speaker from Klipsch.
When it comes to top-notch audio and stylish designs, Klipsch has a great reputation. When you see the R-25C center channel speaker it's not hard to see why.
This speaker looks amazing and performs even better. In fact, with its black and gold design, it may even be the most attractive-looking speaker on this list.
In terms of durability and performance, this speaker is up there with the very best.
Built into a relatively compact, strong box, the R-25C speaker has impressive 5.25-inch copper woofer units that offer an incredible sound that effortlessly fills the room.
The sound is not only loud but also crisp and clean.
On top of that, the speaker's frequency capabilities easily match whatever you're watching. Whether it be a film or music video the speaker will excel.
400 Watts of power output is also much appreciated.
We also loved the 1-inch linear-travel suspension tweeter this unit comes with. This helps reduce distortion and offers a reliable high-end response.
What more could we ask for?
Pros
Premium quality – This speaker gives you premium quality at a great price.
Excellent performance – The R-25C speaker easily fills the room.
Minimal distortion – You shouldn't encounter any distortion with this speaker.
Cons
Poor mid-range response – The mid-range response on this speaker is quite weak.

Finally, we have the Cerwin-Vega center channel speaker. This speaker is another premium product manufactured by one of the leading brands on the market.
For that reason, it suits individuals who have a bigger budget and are looking for the best of the best.
Perfect for a home cinema room or theater system, this center channel speaker comes equipped with essential features that enhance the sound quality across the room.
These features include a 1-inch tweeter, quad 5.25-inch woofers, 300 Watts of output power, and a frequency range of 55Hz – 26kHz.
Together, these features help produce impressive vocal clarity, plenty of sounds, and awesome bass. When we tested the speaker out, we felt like we were in the movie.
The sound was so good. The sound was also super realistic.
Also nice and loud, the frequency range on this speaker is something that sets it apart from other speakers.
Thanks to its large range, you never have to worry about missing any minute sounds or details in your films ever again.
The only downside with this center channel speaker is that it looks quite old-fashioned. If you can look past that, you have yourself an incredibly high-performing speaker.
Pros
Unrivaled performance – This speaker's performance levels are hard to beat.
Impressive frequency range – Never miss any sound again.
Perfect for home cinemas – This speaker will bring the cinema to your home theater.
Cons
Old-fashioned – The Cerwin-Vega center channel speaker has an old-fashioned design.
Also Available At
Buyer's Guide
Now you know what's available on the market, you can start looking at which center channel speaker you need and want to buy.
However, before rushing into a decision, there are a number of key factors you need to take into consideration.
Only when you've taken the key factors into account can you make a positive final decision.
In this short buyer's guide, we've outlined the most important key factors for you. This should help you make a much better decision.
Power Output
One of the simplest, yet most important things to think about when choosing a center channel speaker is the speaker's power output.  The speaker's power output refers to how loud the speaker can pump out sound.
If you choose a speaker that isn't powerful enough, it won't fill the room with sound. Therefore, you need to think about how powerful your speaker needs to be.
You can do this by checking the speaker's product description before making a purchase.
A speaker that offers more power will have a higher wattage. For example, a speaker with an output of 200 Watts is much louder than a speaker with an output of 100 Watts.
Driver Size
It is also important to carefully think about driver size when purchasing a speaker.
This is important because the quality of the sounds that comes out of the speaker is dependent on how big the system's drivers are.
A speaker with two six-inch drivers will produce a sound that is much clearer and crisp than one that only has two two-inch drivers. The bass and vocal clarity will also be much more impressive.
Before making your purchase, again check the speaker's product description.
Speaker Design
The speaker you decide to purchase will sit for all to see in your living room or home theater.
Therefore, you need to do all you can to find a system that you not only like, but also fits in well with the rest of the room's multimedia system and decor.
The last thing you want to do is end up with an audio system that doesn't look right or stands out like a sore thumb.
Instead, keep an eye out for a modern speaker with a stylish design that easily blends in with its surroundings.
You should also have a good think about the size. By not taking size into account, you could end up with a speaker that doesn't fit in the room.
Before looking for a speaker, why don't you take your time to measure just how big the speaker can be?
Frequency Response
If you want a center channel speaker that offers excellent instrumentals and deep bass, you need to look for one that is more than capable of coping with a wide range of different frequencies.
Luckily for you, all of the speakers on our list have great frequency responses. However, if you choose to look elsewhere, you need to ensure that the speaker you find has a great frequency range.
Generally speaking, a speaker that has a frequency range of 20 to 25,000Hz is good enough to provide you with what you need.
Budget
Center channel speakers are available at a wide range of prices. Some are very affordable, only costing $80, whilst others are very pricey, costing more than $200.
As a result of this large price swing, you need to make sure you have a clear idea of what your budget is before looking for a speaker.
If you don't, you could easily spend money you don't have or waste lots of time looking at speakers you can't afford.
By setting yourself a budget before then looking at what's on offer, you can save lots of time by heading straight to the speakers that fall into your budget.
You'll also avoid getting in trouble with your partner for spending too much money.
Frequently Asked Questions
Are Center Channel Speakers Worth It?
Yes, center channel speakers are most definitely worth it. While most people believe any speaker can do the job, center channel speakers simply do the job better.
Especially when watching movies or listening to music, center channel speakers offer a more enhanced audio experience.
Sound effects and background sounds are much clearer and the audio fills the room. Vocal dialogue is also much crisper.
Can You Use Any Speaker As A Center Channel Speaker?
Yes, you can use any type of speaker as a center channel speaker, however, the results won't be as good as when you use a specialized center channel speaker. Audio won't be as loud, clear, crisp, or as exciting.
With this in mind, we recommend using a dedicated center channel speaker whenever possible. The only time we'd use a different type of speaker is if we were waiting for our center channel speaker to arrive.
Which Center Channel Speaker Is The Best?
Ultimately, the best center channel speaker comes down to personal preference. What makes a speaker a good option for one person, might not make it a great choice for another.
Having said that, for us, the best center channel speaker on the market is the Klipsch R-25C.
In our opinion, this speaker offers everything we would expect from a center channel speaker. It looks great, performs amazingly, and doesn't cost too much to buy.
Final Thoughts
That concludes our article looking at the best center channel speakers the market has to offer.
While it can be hard to find the best options when you're not too sure what to look for, as you can see from our list, there are plenty of excellent options to choose from.
In this article, we have provided you with 5 of the best center channel speakers on the market.
We've looked at what makes each option great, any pros and cons, and even provided you with a useful buyer's guide to help you make the best decision.
While the speakers on our list may vary quite a lot, they are all certain to improve the audio quality of your existing system.
With our list and buyer's guide at your disposal, you can now start to narrow the options down until you've found the center channel speaker that suits your needs and requirements best.