Hey Guys
I hope you have a good couple of weeks.
This week marks something quite momentous for me, the end of the first year of Protege.
I cannot begin to tell you how proud I am of everyone involved.
The students have been AMAZING; week in week out they have turned up to our zoom calls, they have watched every single course and have pushed their writing and production SO MUCH.
As a direct result of their hard work they are now such an incredibly capable bunch of composers in a great many styles.
Their improvement and development frankly makes me feel quite emotional.
This is the reason Vik an I wanted to do this, to actually makes a difference to our students and their work.
On top of that we have secured a couple of placements for our students through our library Blue Pearl.
The most recent placement was for our student Sean Latino for the Netflix show 'Love, Death + Robots':
This placement was such an important landmark - we teach the students what they need to do to write PLACEABLE music, then we place it - and we did!
IF YOU WANT TO JOIN PROTEGE IN SEPTEMBER, CLICK HERE TO APPLY.
Granted, this is only one but there are more in the pipeline and they will only grow and grow.
Obviously I would be biased about this course, it's mine and Vik's baby, we believe 100% that this is more than just education, it is an investment in you and your career, it is the thing that our industry really needs - proper training with ACTUAL opportunities!
The composers we have had the pleasure of working with this year are an incredibly talented bunch and I consider myself honoured that they not only placed their trust in us but also proved that the Protege course works.
The Protege course is something I am incredibly proud of and it's impact is only going to grow.
In the day it has been since we had our last group call we have been inundated with emails of praise, thanks and love.
Our aim was to create something that made an impact and I truly believe we have done that.
BUT DON'T TAKE MY WORD FOR IT ;)
---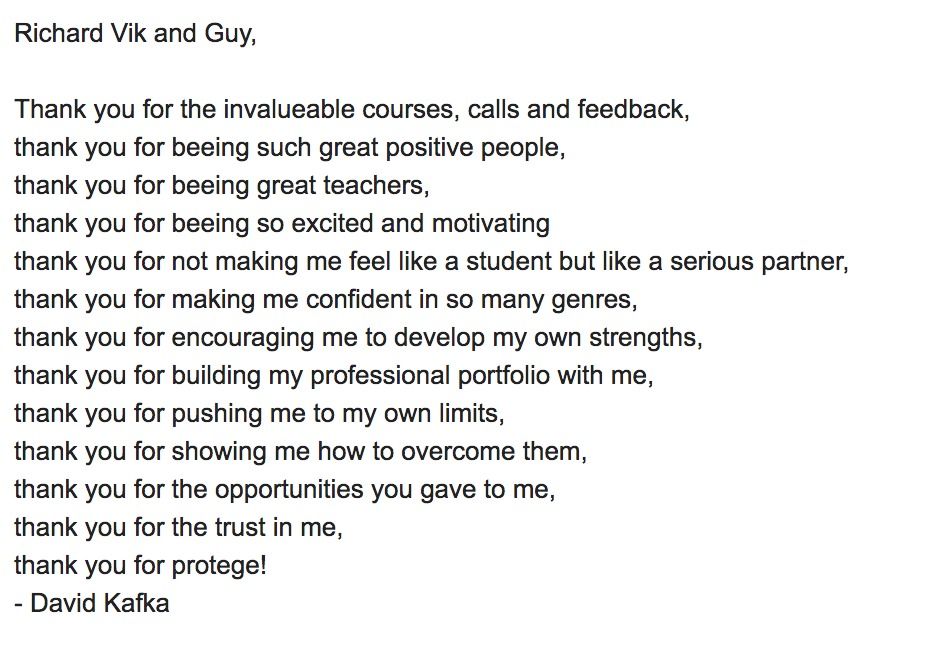 These are only a small sample of the amazing and wonderful things our Protege students are saying about their experience this year.
IF YOU WANT TO JOIN PROTEGE IN SEPTEMBER, CLICK HERE TO APPLY.
Thanks for taking the time to read this guys,
I know it comes across as quite "salesy" but there is literally no other way I can brag about this project of which I am extremely proud,
Have a great weekend
Rich