From the smallest ping to huge orchestral recordings at Abbey Road, I have created the most comprehensive resources on trailer music there are. Whether you want to know how to structure trailer music or want to take your tracks to the next level I have you covered.
⚡️ My Free Trailer Music Toolkit
I created a little toolkit that has all the tools you need to start writing awesome Trailer Music. I even created a tutorial sketching a complete Trailer Cue using only these tools.
📚 Trailer Music Terminology
All the terminology that you will hear all the time when writing and producing trailer music.
📝 How-to Guides
In-depth guides on specific aspects of trailer music that are really important. These are essentially blueprints for how to structure your trailer music, and how to write trailer music more easily and quickly.
📺 Trailer Music Courses
I have created 12 in-depth courses on writing trailer music. The aim for me was to impart every single bit of knowledge I have gained over the last 10 years of being a professional trailer music composer.
Foundation courses:
These courses are aimed at people who are new to trailer music as they cover all the foundational elements. This stuff is really important, if you have the basics down pat then you have won half the battle.
Dive Deeper
These courses are aimed at people who know a bit about trailer music but want to dive deeper and learn more niche-specific approaches.
Niche Courses
These courses are wildcards. These styles are often not considered "trailer music" however I regularly land placements writing in these styles.
I have created the ultimate Trailer Music Course Bundle which has all of my trailer music courses in one which is the most wide-ranging and detailed trailer music course ever!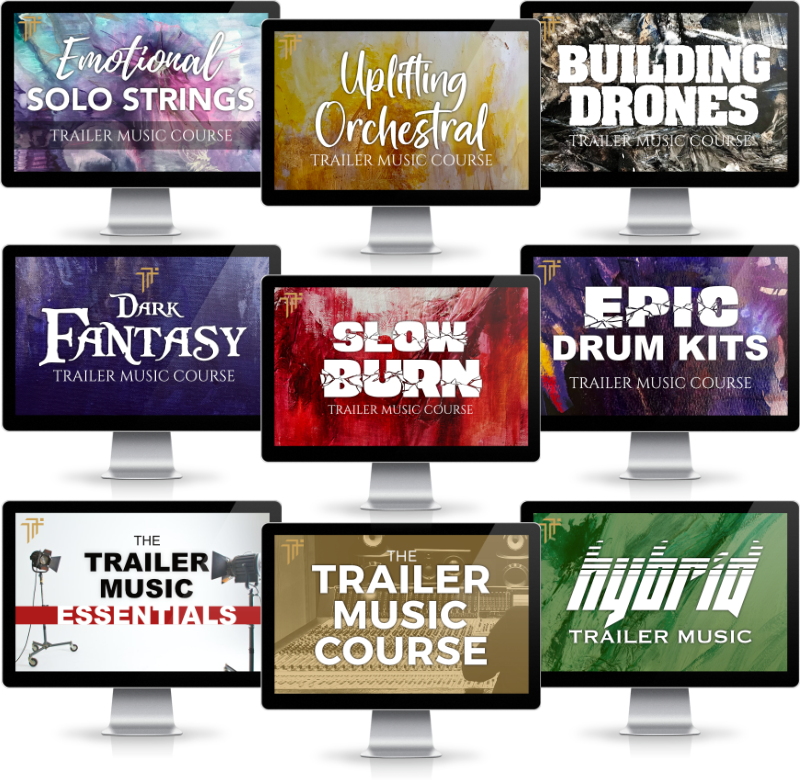 Get 11 Trailer Music Courses for One Great Price
Introducing The Ultimate Trailer Music Course Bundle - the most comprehensive, in-depth, and well-thought-out trailer music education out there. This is literally everything I know about Trailer Music all in one great product - grab it now at an exclusive price!
Get this Deal NOW
🎼 How I Wrote the Music for…
These are breakdowns of how I wrote the music that was used in real-world trailers. Walking you through my Logic sessions so you can see everything I do to produce trailer music that gets licensed.
🎞 Trailers Using My Music
I wanted to include some of the trailers that use my music that I am really proud of and to show the range of placements I have achieved. If you would like you can see all of my placements (well 75% of them).
🎙 Interviews With Industry Experts
I have been hosting a podcast called The Trailer Music Composer's Podcast all about trailer music for over 3 years.
In that time I have had the pleasure to interview some amazing people in the industry who tell the origin story of epic music, reveal how the industry works, and share super useful composition tips and tools.
Some of the most loved episodes of the show:
🎁 Popular Tips & Tricks
These little ditties have really helped to take my trailer music & my workflow up a notch with very little effort. Don't underestimate the power of the dark side, oops sorry, I meant don't underestimate the power of small changes.
🛠 Tools You Need
This is by no means the ultimate list of tools, it is however a list of some tools that I use every single time I write trailer music and cannot do without.
String library - I use Spitfire Albion, Jaeger, & Metropolis Ark
Brass Library - I use Jaeger, Metropolis Ark, & Spitfire Albion
Trailer Hits - I use Keepforest and my own hits
Trailer Percussion - I use Damage, Hanz Zimmer Drums, and Ferrum
Bass - I use Trilian and Keepforest Evolution
Good synth - I use Omnisphere
Piano - I use Labs Felt Piano, & Alicia's Keys
Risers - I use The Riser, my String Risers, and some random one-shots
You might also be interested in the best free tools for writing trailer music. 
🙋🏽‍♀️ FAQs
You should check out my Trailer Music Composer's Podcast for detailed answers to all the most frequently asked questions about trailer music.
You can even ask me a question that I will answer on the podcast!
If you have covered all this stuff and still want more then I do offer one-to-one coaching sessions (limited spaces) to help you hone your craft even more.